Traders have piled into call options linked to popular U.S. equity exchange-traded funds as U.S. stocks rallied following the release of Tuesday's consumer-price index.
That could help push stocks even higher in the days ahead, options-market strategists said.
Options tied to $2.4 trillion in stocks, exchange-traded funds and equity indexes are set to expire on Friday, according to data compiled by Rocky Fishman, founder of Asym50, a provider of analytics about the U.S. options market.
A chart from a team of analysts at Goldman Sachs Group showed that call buying tied to popular index-tracking exchange-traded funds exploded this week, causing the ratio of outstanding calls to puts tied to the SPDR S&P 500 ETF Trust
SPY,
the Invesco QQQ ETF
QQQ
and the iShares Russell 2000 ETF
IWM
to sink as traders dumped puts and piled into calls. This ratio is typically referred to as "skew" in Wall Street parlance.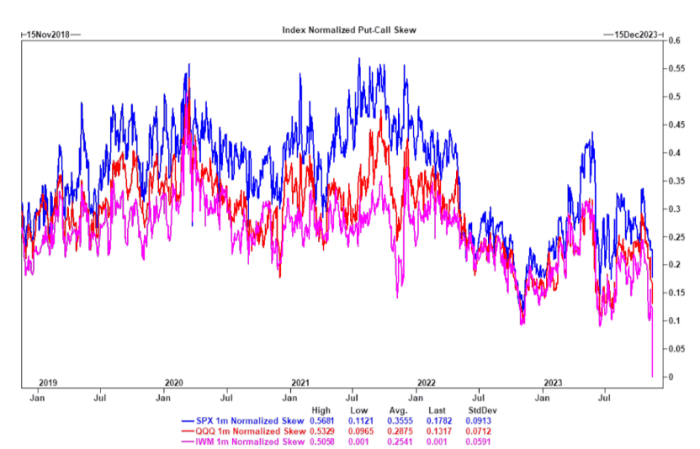 Notably, skew for calls tied to the IWM, the ETF tracking the Russell 2000, a popular index of small-cap stocks, has sunk to its lowest level on record, according to Goldman's data, signaling unbridled bullishness in a previously unloved corner of the marke.t
Brent Kochuba, founder of SpotGamma, a provider of options-market data and analytics, told MarketWatch that the shift in small-cap skew has been "super interesting."
See: Options traders are piling into bullish bets on small-cap stocks at a record pace
With roughly one-third of calls tied to the IWM set to expire on Friday, some of the momentum that has driven small caps sharply higher over the past two weeks could fade if traders opt not to roll over their positions.
But the spike in demand could also be a sign that more traders will pile into small caps in the hopes that they will continue to climb, as corners of the U.S. market that have lagged Big Tech all year continue to play catch up.
Call options represent bullish bets on an underlying security or index. Put options represent the opposite. Options can be used to speculate on market direction, or to hedge an investor's portfolio.