The stock-market seasonality trend has played out almost perfectly in the third quarter of 2023, with both August and September living up to their reputation as brutal months for U.S. stocks. But that seasonal weakness may set up a stock-market rally in the final quarter of the year, said longtime market strategists.
Historically, the fourth quarter has been the best quarter for the U.S. stock market, with the large-cap S&P 500 index
SPX
up nearly 80% dating back to 1950 and gaining more than 4% on average, twice as much as the next best quarter, said Ryan Detrick, chief market strategist at Carson Group (see chart below).
October is known as a month for extreme volatility, with some of the legendary U.S. stock-market crashes — the Panic of 1907, the Wall Street Crash of 1929 and the Black Monday in 1987 — all occurring in October. However, it is still in general a "pretty decent month," especially when stocks fall more than 1% in the previous two months, Detrick wrote in a Thursday note. 
See: Why stocks are likely to be especially volatile this October
On Friday, the S&P 500 and the Nasdaq Composite
COMP
recorded their worst month since December and their worst performing quarter so far in 2023. All three major indexes suffered their second consecutive month of losses, according to Dow Jones Market Data. 
The latest surge in Treasury yields
BX:TMUBMUSD10Y
and the U.S. dollar
DXY
at a 10-month high against a basket of major currencies conspired with seasonal weakness to knock the market down in September. While bullish trends in the dollar and yields have been underway for months, the Federal Reserve's interest-rate decision and Chair Jerome Powell's press conference last week accelerated the rally in rates and the greenback.
In the meanwhile, U.S. energy prices
CL00,
-1.02%
CL.1,
-1.02%
hovered above $90 a barrel in September as investors weighed tightening supplies after Saudi Arabia and Russia extended their voluntary cuts in oil production through the end of 2023, deepening investors' concerns that reducing inflation to 2% is hard, and more interest-rate hikes might be needed.
As a result, the S&P 500 ended the month with a loss of 4.9%, while the Dow Jones Industrial Average
DJIA
fell 3.5% and the Nasdaq Composite dropped 5.8% in September. In August, the S&P 500 was off 1.8%, while the Dow industrials fell 2.4% and the Nasdaq declined 2.2% for the month, according to FactSet data. 
Ryan Belanger, founder and managing principal at Claro Advisors, said the fourth quarter of 2023, despite strong seasonal tailwinds, could be weaker than the historical average as market fundamentals are pointing to a recession.
"Bond yields are at multi-decade high, while the Fed is still considering raising interest rates — it's going to be challenging for investors to allocate significant capital to the stock market to drive those returns," Belanger told MarketWatch by phone on Friday. 
See: September's U.S. stock-market rout left just 1 winner as defensive sectors failed to provide shelter
While many investors expect seasonal weakness to continue, Detrick of Carson Group does not count out a stock-market rally in the fourth quarter just yet.
For the last three times when stocks were off 1% in the previous two months, October bounced back with an impressive gain of 10.8%, 8.3%, and 8.0%, respectively, said Detrick.
"Turning to the fourth quarter, it has been up 12 out of 13 times and up more than 7.0% on average [since 1950]," he said. "In other words, when we see the seasonal August and September weakness, it is also normal to see a strong end-of-year rally." (See chart below)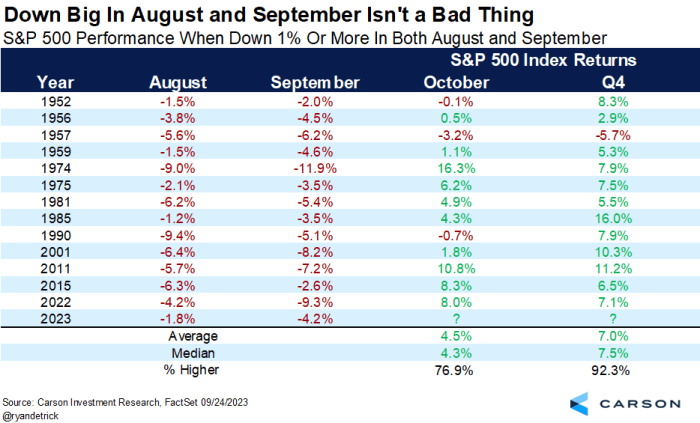 Moreover, when the S&P 500 is up between 10-20% for the year heading into the normally strong fourth quarter, Detrick said he expects "an even better fourth quarter," up more than 5% on average. The S&P 500 has advanced over 12% so far in 2023, according to FactSet data.