I never imagined I'd be crying on vacation in Hawaii, but there I was, overwhelmed with worry because my 71-year-old mother's Medicare Part B enrollment had been denied. A naturalized U.S. citizen, my mom had been living overseas with a rare blood cancer for 20 years. By December 2021, her end-stage disease required bi-weekly blood transfusions; the only hope for cure was a risky stem cell transplant. Therefore, in May 2022, she decided to return to the U.S. so my siblings and I could support her during treatment and recovery.
Since she had enrolled in Medicare Part A when she turned 65, as required, I assumed it would be straightforward to enroll her in Part B. After all, I'm a physician-scientist who analyzes Medicare claims to improve health care quality and value. But I wasn't prepared for the layers of complexity surrounding Medicare enrollment, which is happening for millions of Americans right now.
Two weeks of online reading had educated me as to the pros and cons of traditional Medicare versus Medicare Advantage, the different Part D drug plans, and how to decipher the alphabet soup that is Medicare Supplement (a.k.a. Medigap) options A, B, C, D, F, G, and K, L, M, and N to help with decision-making once my mom got Part B. Then there were the myriad enrollment periods: the Initial Enrollment Period (three months before and after the month you turn 65); the Annual Enrollment Period (October 15th through December 7th) to switch Part D or Medicare Advantage plans; the General Enrollment Period (January 1st through March 31st) to get Parts A or B if you didn't enroll at age 65; and the Special Enrollment Period (SEP) for exceptional situations, like returning to the U.S. after living overseas. Feeling well-informed, I called 1-800-MEDICARE, only to learn that Medicare enrollment is handled by the Social Security Administration (SSA). (Who knew?)
I submitted the Part B online application in mid-May 2022. During the next few weeks, I anxiously called the SSA's national 800 number: still pending. The denial letter arrived the day before we left for our twice-canceled (COVID lockdown) Hawaii vacation. After listing (inaccurate) reasons for the decision, the letter recommended resubmitting the Part B application during the next "General Enrollment Period" in January 2023. Fighting panic, I tried to remain calm. My mom was already short of breath and could barely eat. By January—absent the transplant—she would likely be dead.
In desperation, I posted a plea on Facebook. A member of my church texted me from an unfamiliar number. Having helped her own mother through the same enrollment challenges, she advised me to call our local SSA office.
After repeatedly dialing the San Francisco downtown and Chinatown offices from Hawaii, I finally connected with a live agent. Only after I read him the SEP eligibility criteria verbatim from the SSA Program Operations Manual System did he divulge that we could submit an appeal, which could take up to 90 days to review.
Unwilling to give up, I spent the next few hours summarizing the timeline of medical and enrollment events and uploading documents to SSA's appeal link. That evening, at my sister-in-law's urging, I also requested help from my congressional representative, former Speaker Nancy Pelosi.
The next morning, an SSA agent called unexpectedly, apologizing for their frank error and confirming that my mom's Part B enrollment could proceed. After a nearly two-month ordeal, her benefits kicked in days before her first appointment with the transplant team in July 2022.
As a physician, I've learned to cordon off my emotions, push through setbacks, and build workarounds to take the best possible care of patients. As a researcher, tracking down complex information is my forte. Nonetheless, I could barely get my mom the coverage she qualified for. My family is indebted to Speaker Pelosi's staff for their timely intervention.
Admittedly, our situation was unusual. Most people sign up for Parts A and B when they turn 65 and don't have terminal blood cancer requiring immediate treatment. However, this story unveils the routine bureaucracy that older adults must navigate to access an insurance benefit they have justly earned. The number of U.S. older adults is expected to exceed 73 million by 2030. Many will have health issues that could impede their ability to complete Medicare enrollment, despite their eligibility. Although the SSA encourages folks to enroll online, many older adults may not be sufficiently tech savvy to determine which forms to complete, how to upload documents, or whom to call for assistance—especially non-fluent English speakers and those without children or caregivers to assist them.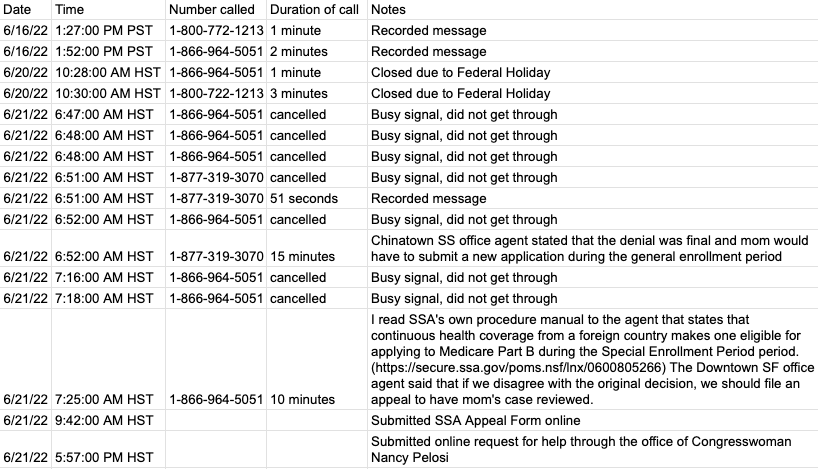 Medicare enrollment shouldn't rely on the combined fluke of having a physician in the family, a stranger's response to a desperate Facebook post, and a successful Hail Mary request to a member of Congress. Although the Biden administration has recently made some constructive changes, including shortening the gap between Medicare enrollment and coverage, there are still ways to make Medicare enrollment less confusing.
Helpful first steps could include automating Parts A and B enrollment for all eligible adults when they turn 65 (i.e., opt-out instead of opt-in) and consolidating the Annual and General Enrollment Periods into a single end-of-year enrollment window. Hiring more SSA call staff would make it easier to get help and meet the inevitable onslaught of calls as the population ages. Finally, SSA agents' lack of familiarity with the SEP eligibility criteria created this nightmare situation for my family. The Biden administration recently enacted five more SEP scenarios, effective January 1, 2023. Establishing a dedicated SEP helpline to assist those who qualify would help others avoid the setbacks we faced.
Older adults with no one to support them during enrollment can reach out to the State Health Insurance Assistance Program (SHIP). When all else fails, reach out to your Congressional representative.
My mom celebrated the first anniversary of her stem cell transplant on October 21st, 2023, and has resumed living independently. We are forever grateful to her unrelated donor, whose stem cells gave her another chance at life, and to everyone who helped us get her enrolled into Part B. For her, Medicare coverage was truly lifesaving.
Catherine L. Chen is a board-certified anesthesiologist and health services researcher with a primary research interest in optimizing the quality and value of care that patients receive during the perioperative period. She holds an appointment as an associate professor in the UCSF Department of Anesthesia & Perioperative Care and at the Philip R. Lee Institute for Health Policy Studies. Her research program is focused on identifying and reducing low-value care, especially instances of perioperative health care overutilization that may not be beneficial and can potentially harm surgical patients. She employs large datasets, such as Medicare claims and the OptumLabs Data Warehouse, as well as interdisciplinary and cross-institutional collaborations to conduct her research. She can be reached on X @DrChenMD.