Shareholders of Walmart Inc. may have had an inkling of today's stock selloff if they had been watching the performance of its bonds over the last two weeks.
The bonds have seen net selling even as spreads have tightened, according to data solutions company BondCliQ Media Services.
The same is true for Costco Wholesale Corp.
COST,
-2.42%,
as the company's stock fell in sympathy with Walmart on Thursday. That was after Walmart
WMT,
-7.47%
Chief Executive Doug McMillon said he expects to see a U.S. deflation trend in the coming months.
McMillon was the first retail executive to raise the specter of deflation on an earnings call this season so far.
For more, read: Walmart's stock on pace for largest daily percentage decline in over a year after earnings
The comment came after the retail giant posted better-than-expected third-quarter earnings, but offered per-share earnings guidance that was below consensus, sending the stock down more than 7%.
The following charts show what's been happening with Walmart and Costco bonds in the run-up to today's numbers.
Bondholders tend to be keenly focused on a company's underlying financials and closely watched metrics such as cash flow to ensure it can cover interest payments.
That's because, by buying corporate bonds, they are effectively lending money to a company for a set term and want to be sure they will get their full investment back once they mature. Shareholders tend to be more tuned into daily stock-price movements.
The following chart shows the two-week volume for the bonds by trade type.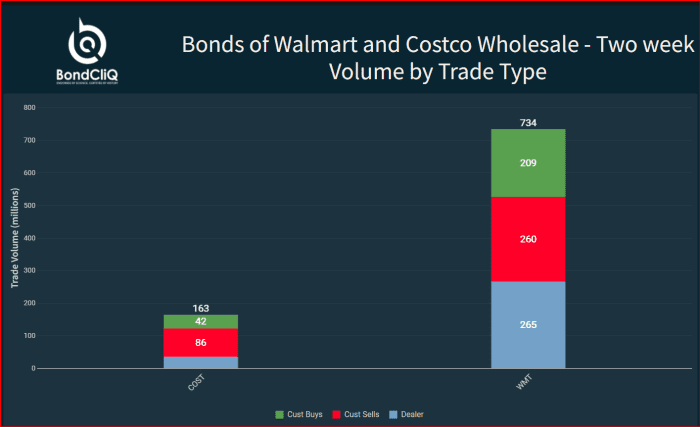 The next chart focuses on two-week client flows, showing net selling for both issuers over the period.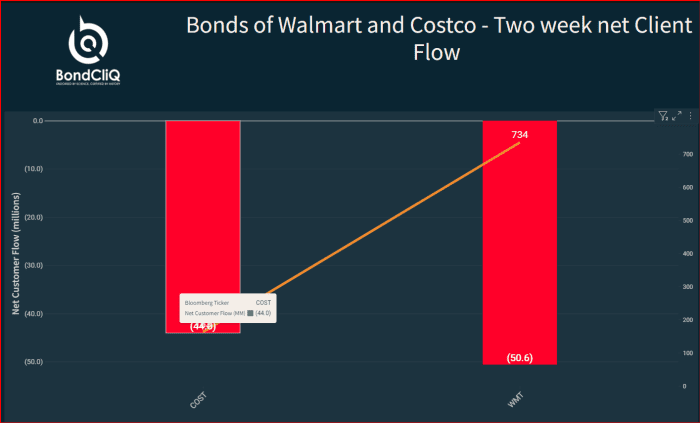 The selling has come as spreads have been tightening, as the next chart illustrates.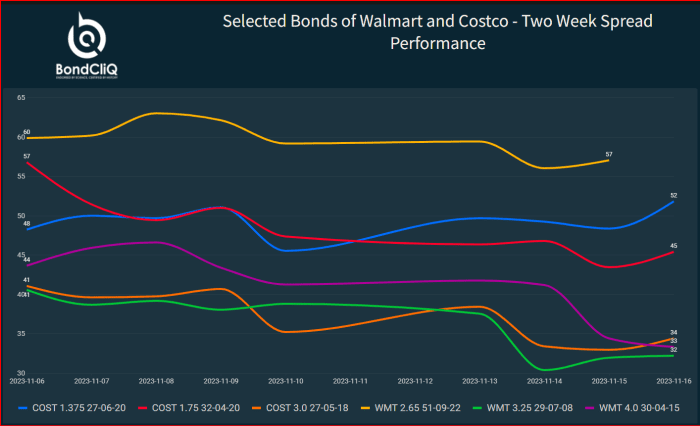 Walmart's numbers come after other retailers this week said they are seeing signs of pushback from their customers, especially when it comes to big-ticket items.
That was the message from Target Corp.
TGT,
-0.55%
on Wednesday, with that company's sales number lagging consensus. Chief Executive Brian Cornell the company saw soft industry trends in discretionary categories, as well as higher inventory shrink.
See also: Target CEO says consumers are still spending, but sees pressure on discretionary items
On Tuesday, Home Depot Inc.
HD,
-0.60%
said its customers were avoiding big-ticket items.
"The third quarter was in line with our expectations – similar to the second quarter, we saw continued customer engagement with smaller projects and experienced pressure in certain big-ticket, discretionary categories," said Home Depot CEO Ted Decker, during a conference call to discuss the results.
For more, see: Home Depot CEO says 2023 'a period of moderation' in home improvement spending
Related: Home Depot says 'the worst of the inflationary environment is behind us,' but prices have settled unevenly
Costco's stock was down 2.5%, while Home Depot was down 0.7% and Target was down 0.2%.
The SPDR S&P Retail exchange-traded fund
XRT
was down 3% and has gained 2% in the year to date, while the S&P 500
SPX
has gained 17%.